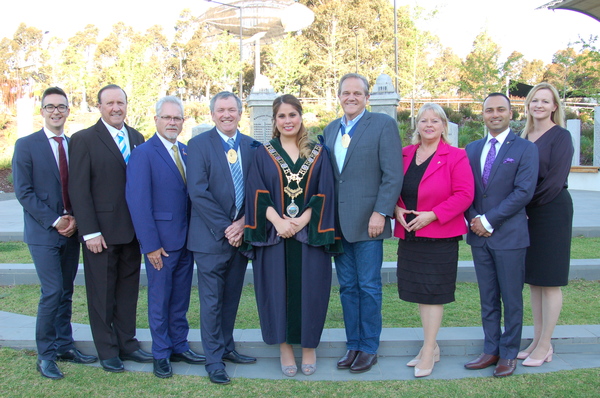 By Brendan Rees
Casey ratepayers have labelled Casey Council's latest meeting as a "joke" after refusing to answer questions of councillor Sam Aziz's whereabouts and just "acknowledged" a petition calling for their sacking.
Former councillor Lynette Pereira submitted a question to council asking about Cr Aziz's whereabouts which was knocked back, instead council announcing an "apology" on his behalf regarding his absence at the 21 January meeting.
"I think it's a legitimate question to ask where this councillor is – it shouldn't be secret," Ms Pereira said, adding the apology was "pathetic."
"They're harbouring a fugitive … He's meant to be representing his community. He absconds basically and gets paid. Wow … shocking," she said.
It comes as Cr Aziz fled to Egypt late last year before the IBAC Operation Sandon inquiry began it hearings – where it's alleged Cr Aziz alleged to have pocketed $900,000 from a developer.
Cr Aziz's leave of absence expired on 31 December but Casey Council says "any further leave of absence would need to be considered and approved by council."
Meanwhile, he and 10 other councillors continue to get paid – all funded by ratepayer cheques.
At the meeting, Cr Geoff Ablett made his first appearance since the IBAC hearings where it's alleged he pocketed $330,000 from a developer; however he did not seek to make a further leave of absence.
Shocked Hampton Park resident Sue Lanigan said: "This is my first council meeting I've been to … what a joke," before labelling Cr Ablett's attendance as an "insult".
"You know what you've done and yet you sit there … he's still accepting ratepayers money. You should automatically being standing down," she said.
Ms Pereira said: "He's got very, very thick skin."
The Casey Ratepayers and Residents Association (CRRA) lodged a petition of 27 signatures to council asking the State Government to "terminate" the position of all councillors "as soon as possible".
But council refused to publicly reveal any further details of the petition with Mayor Susan Serey saying: "I wish to acknowledge the petition received by councillor Flannery from the Casey Ratepayers and Residents Association."
Furious ratepayers said they were "disgusted" by the mayor's response saying council was "looking for an easy way out."
"You can't just say 'oh yeah we've got a petition'," Ms Pereira said. "They don't even read the petition; they don't say how many signatures are on it.
"These clowns do not know how to run a meeting. I can't believe what I just saw."
The CRRA's president Anthony Dissanayake said "it angers us that they don't discuss it" in relation to the petition."In way we can't expect any more from this council," Mr Dissanayake said.
He said it was their hope that councillors would be stood down and an election be called – as the CRRA believes if the State Government does sack the council and appoints commissioners this would "not be in the best interests of the community."
Cr Rex Flannery, who accepted the petition, said councillors should not be asked to stand down.
"The community becomes the judge jury and hang-man. They read the media and all of a sudden they become barristers and solicitors and they make decisions based on what they've read," he said.
"Nobody's been charged to anything. It's only alleged there's been conflict of interest."
Cr Flannery said the public were "jumping the gun" in accusing councillors of corruption and conflict of interest when "none of it's proven."
"I can't prove that people are guilty of anything until IBAC finishes its hearing," he said.
He added the CRRA was acting on its "self-interests" so its members could run for council at the next election – an accusation the CRRA says is untrue.
"At the moment, the community don't trust them. We're paying for some councillors that we don't trust," Mr Dissanayake said.
"If there is election the community will vote and let them vote."
Adding further backlash to council, councillors voted to endorse a Special Planning Committee which will relinquish their responsibility for planning decisions after public confidence had been obliterated.
Speaking in her opposition to the Special Committee at the council meeting, Cr Rosalie Crestani was cut off and told to "sit down" four times by the mayor, who said the Special Committee was "allowed under the Local Government Act."
Outside the council chambers, resident Sue Lanigan said she was shocked by the councillors' behaviour.
"They were shutting her (Cr Crestani) down before she could even finish – that's rude."
"What happened to having a public voice? They're supposed to be representing us."
Cr Crestani said she "should have been allowed" to express her "elected rights to represent community concern on planning applications" which she described "were being forcibly removed."
"They did not have my permission to form this committee so I can't see how they can go ahead with it," she said.
"Sure, the Local Government Act permits formation of special delegated committees but the same Act also recognises the oath I took and the councillor role to represent the people.
"The community can still convey to me if they have concerns about future applications. I will find a way for them to be fully heard."
It is anticipated the Special Committee will meet monthly, starting in February and be open to the public.