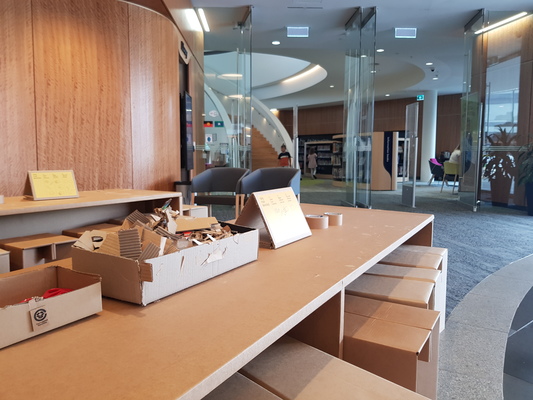 By Danielle Kutchel
A new initiative to make Bunjil Place more accessible for those with sensory sensitivity was a quiet success.
On Saturday 18 January, the library and gallery at the precinct were modified for Quiet Hour, to provide a low-sensory experience for members of the Casey community who have sensory sensitivity or who appreciated the extra quiet time and minimisation of potential triggers.
Visitors took part in crafting activities and browsed Bunjil's library and exhibitions.
Arts access/inclusion officer, active communities at Bunjil Place, Jessica Moody, said the morning went well and had a nice, calming presence.
Now, she and the team behind Bunjil Place are looking for more ways to make the entertainment venue more inclusive, beyond the relaxed performances already offered in the theatre.
"It's about being receptive and acknowledging that yes, we've got people engaging with this space, but thinking about who aren't, and why are they not coming into this space, and what can I do to make that happen," she explained.
"We just see how we can do it in our own unique way as a precinct … we have a gallery, we have a library, why not offer it to everyone?"
A number of inclusive events are lined up for 2020, including an Auslan-interpeted performance of Magic Beach, large print and multilingual labels in the gallery, and an Arts and Dementia tour in the gallery.
In March, an evening show of Aurora by Circus Oz will be audio described – a first for a show at Bunjil Place – and will include a pre-show tactile tour.
For Ms Moody, her role is derived from a personal passion: as someone who is deaf, she is mindful of the experience of people who are unable to go to the theatre or enjoy other arts programs that are inaccessible to people with special needs.
She is grateful to be in a position to be able to advocate for that community and recognises the importance of using the stories of people with disability to inform accessibility programs.
"We're happy for them to have a platform to educate and share with us.
"Wherever I can, I would use them as consultants or co-designers and acknowledge that I'm not the expert in everything."