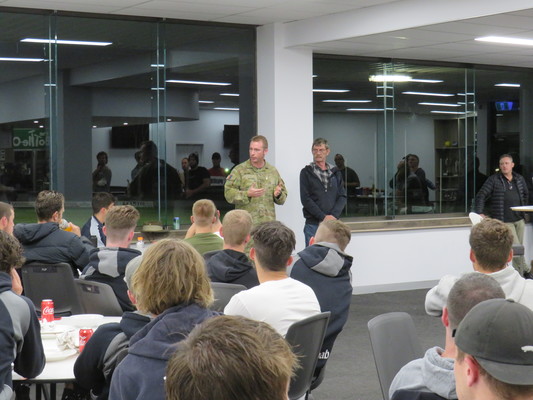 By Hayley Wildes
There is simply no comparing the combat of war to what takes place on a football field. That much is obvious.
So to play a game of Aussie Rules on Anzac Day is about much more than just the four points. When Berwick football club runs out onto Edwin Flack Reserve today (Thursday 25 April) against Healesville, they'll be doing it out of respect and appreciation of those who have served and continue to serve our country.
On Tuesday night after training, Berwick players and officials gathered in their club rooms to learn more about the Anzac spirit and how the Army's values relate to the local community and everyday life.
With the room silent, Lieutenant Colonel (LTCOL) David Hughes spoke about the Australian Army's four all-important values; courage, initiative, respect and teamwork.
LTCOL Hughes, who was born in Gippsland and lived in Berwick from 2016-18, joined the Australian Army in 1995 and has served in Darwin, Adelaide, Canberra and Melbourne, and has undertaken operational service in Afghanistan and South Sudan.
He spoke about the lessons he has taken from those experiences, both good and bad, and how they drive him in his everyday life.
"Courage isn't just getting into a pack or diving on a footy, courage is also helping your mates and if you've got a mate that has a problem, going up and having a chat with them." LTCOL Hughes said.
Furthermore, LTCOL Hughes spoke about Anzac heroes and local heroes.
"Our Anzac values carry through all of us today; when there are fires or floods, we help each other out," he said.
"We lost two lifesavers down the Great Ocean Road over the weekend. The tourist was saved, but unfortunately the father and son lost their lives – they're the heroes for putting themselves at risk to help someone else.
"When you're thinking of your heroes, what are they sacrificing and giving up? Normally, heroes are related to sacrifice, what they're doing for someone else or a higher cause."
With LTCOL Hughes and members of the Berwick RSL captivating the room, Berwick football club learned how the Anzac spirit will forever be embodied and remembered by the Australian Army and for those not directly involved in the Army, that spirit can still absolutely be applied in everyday life and on the field.
Berwick's Anzac Day game against Healesville kicks off at 2:20, with a pre-game Anzac ceremony – including a full contingent of flag bearers, bag pipers and a bugler – taking place beforehand.