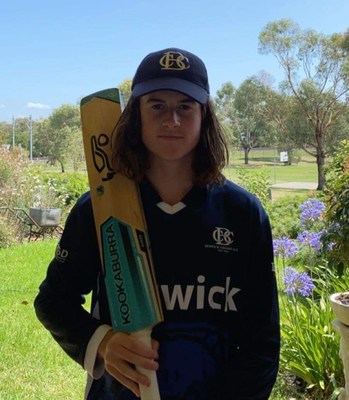 By Tyler Lewis
The name Jaxon Binns is destined to be up in lights.
Whether it is on the football field or cricket field, the Berwick youngster is taking strides in each sport he plays.
Binns has recently been selected for the Under 15s Victorian State side in cricket which will compete in Ballarat from 20 February to 27 February after stringing together some strong representative form to go along with his form for Berwick in the Dandenong District Cricket Association.
The top order bat begun his juniors for the Bears, before having a muck around stint in the West Gippsland competition with some mates – but his return has been a challenge against some quality attacks, but is one he has enjoyed.
"I think I was about seven-years-old when I first starting playing cricket at Berwick," he said.
"Since then I have started getting the love for the game and trained pretty hard. I played for Upper Beaconsfield, I got to play with my mates and their dad, we played with a father-son team and it was pretty fun muck around team.
"(But) it has been a massive step up (coming back to Berwick).
"It has been challenging at times but still really fun because I still get to play with mates over the time at Berwick and I am really enjoying it.
"I just feel playing the higher grades I get more out of it. Having better bowlers for longer times, every team has good bowlers and they don't fall away as most teams did last year."
As a youngster who has paved the way for a successful future, many influences have come and gone along the way. None other than his batting coach who knows what it takes to be at the highest level, and some familiar names down at Arch Brown Reserve.
"The coach Will Carr has been a really big help," he said.
"I have a batting coach Bathiya Perera who has been a really big help for me on my cricket career. They (both) have helped me out a lot.
"He (Matt Chasemore) has also been a really big influence. I look up to him a lot and try to play like he does, when he comes to training he helps me out a bit and speaks to me about how I am going with my cricket."
While the appetite for success in the upcoming Victorian tournament is clear for Binns, his future in which sport he is to pursue isn't as vivid as he can't get enough of either sport each week.
"I want to first have some fun and make some new friends," he said.
"But to make as many runs as I can, and really put my name up there for next year.
"I am still not sure (between footy and cricket). I love both of them and it is going to be a very hard decision."