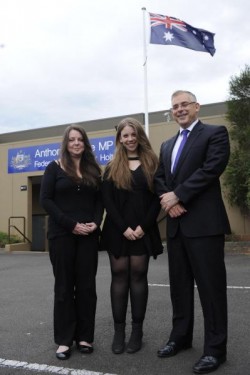 By BRIDGET COOK
NOMINATIONS are now open for the 2014 Holt Australia Day Awards which aim to recognise those who have made a significant contribution to the Casey community.
Holt MP Anthony Byrne hosts the awards annually and is again on the committee to nominate those worthy of the recognition.
"I'm calling for community, sporting and service organisations and members of the public to nominate one individual they believe to have made a significant contribution to the local community in a voluntary or philanthropic capacity," he said.
In January this year, Mr Byrne honoured 33 individuals and two local organisations for their contribution to the community on Australia Day.
Mr Byrne caught up with one of the recipients, Brittany Leo, and her mother Tracey last week to promote the awards and show the community the type of characters that are worthy of them.
"Brittany is a very talented 17-year-old singer from Narre Warren," he said.
"She has been performing regularly at venues and events around Casey and the wider Melbourne metropolitan area for the last three to four years.
"When a charity or fund-raising event needs performers, Brittany is always one of the first to put her hands up.
"Brittany is a very talented young lady who gives freely of her time to perform and is a credit to the Casey community."
Nominations close on 16 January.
To nominate someone or for more information contact Mr Byrne's office on 9796 7533.