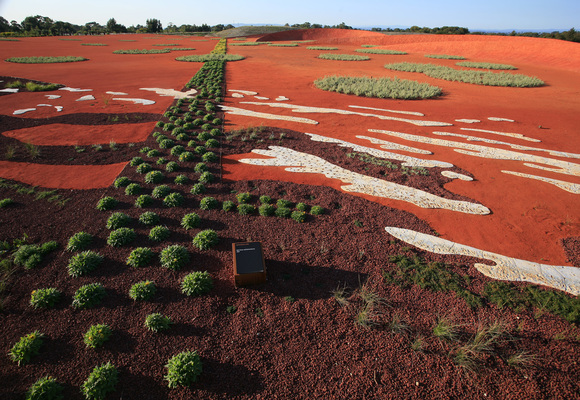 Snapshots of Australia
Travel through the landscapes of Australia with an experienced guide while taking in the sights, sounds and smells of this unique continent. This tour explores seasonal colour providing visitors with a snapshot of the very best the Australian Garden has to offer. This tour starts at and loops back to the Visitor Centre. Discounted passes can also be purchased for two walking tours OR one walking tour plus a daily pass on the Garden Explorer. Tours available at various times by request. Group tours available at 11am or 1pm. Guide-led 'audio descriptor' tours are available for visitors with low or no vision.
Friday 9 December 11am – 2pm. Saturday 10 December 11am – 2pm. Sunday 11 December 11am – 2pm. Venue: Corner Ballarto Road and Botanic Drive, Cranbourne. $7.10 adult, $6.10 concession (group bookings $6.10 per person). Contact Royal Botanic Gardens Cranbourne on 5990 2200.
Casey Community Christmas Carols
Hampton Park Carols by Candlelight. Friday 16 December, 7.30pm-9.45pm. Cairns Road Reserve, Corner Cairns Road and Campbell Drive, Hampton Park. Free event. Contact: Jeanette Newman 0412 997 798.
Cranbourne Christmas Carols. Saturday 17 December, 4pm-9.45pm. 101 Lesdon Avenue, Cranbourne. Free event. Contact 5995 2005.
Berwick Christmas Carols. Saturday 17 December, 7pm-9.30pm. Edwin Flack Reserve, Manuka Road, Berwick. Voluntary donation.
Victorian School of Performing Arts Christmas Carols. Tuesday 13 December, 7pm. 27-47 Gloucester Avenue, Berwick. $10 with profits going to the Smith Family. Contact Kim Sanders 9703 8143.
Cranbourne Community Christmas Carols. Sunday 11 December, 6.30pm-8.15pm. Corner Russell and Childers streets, Cranbourne. Free event. Contact 5996 3251.
Lynbrook Moonlight Cinema and Carols. Saturday 10 December, 6pm-10.30pm. Banjo Paterson Reserve, 95 Paterson Drive, Lynbrook. Free event.
Narre Warren North Community Carols. Saturday 10 December, 6pm-10pm. Corner Tom Jones Road and A'Beckett Road, Narre Warren North. Voluntary donation. Contact Michael Gonsalves 0429 238 927.
Endeavour Hills Community Carols. Saturday 10 December, 5pm-9.30pm. 2-8 Gleneagles Drive, Endeavour Hills. Gold coin donation. Contact 9700 2314.
Christmas on the Foreshore. Friday 9 December, 6pm-10pm. Tooradin Recreation Reserve, Foreshore Road, Tooradin. Gold coin donation. Contact Ross Wilkie 0403 535 595.

Sunset Cinema
Cinema-goers can relax as the sun sets, enjoying tasty food and drinks from Melbourne's finest food trucks and a licensed bar. With entertainment provided by talented local musicians, cinema-goers can settle in and enjoy the beautiful setting as our huge outdoor screen lights up, offering an eclectic mix of new and classic movies. Empire are planning to offer unique additions such as VIP areas and bean bags. There is no BYO for this event.
Friday 9 December 7pm-11pm and Saturday 10 December 7pm-11pm. General admission $15, concession $12, child (3-15 years old) $10, senior $10, family (2 adults and 2 children) $40, Gold Pass $30: Includes popcorn, bean bag and the best seat in the house. For movie and ticket details go to www.thesunsetcinema.com.au

The Farmers Market, Berwick
Held in the picturesque gardens of the local farming property of The Old Cheese Factory in Berwick. The site has many amenities including a children's playground and cafe. Farm fresh and organic seasonal fruit, vegetables, herbs and spices, honey, cheeses, jams, condiments and preserves, rare and free range lamb, beef, pork, certified free range eggs, herb and vegetable seedlings. British pies, fruit pies, cakes, artisan loaves and much more.
Saturday 10 December 8am-12.30pm. Old Cheese Factory 34 Homestead Road, Berwick. Gold coin donation. Contact Geoff Rankin 9769 4459 or 0407 968 841.

Australian Native Food Harvest
Julie Weatherhead presents a fantastic session on Australian native foods, showcasing her first publication 'Australian Native Food Harvest: a Guide for the Passionate Cook and Gardener'. Julie is a passionate gardener and cook, with a degree in Environmental Science and Teaching. Her inspiration for writing this book stems from her personal discovery of Australia's wonderful range of native foods. Julie aims to inform and motivate readers to create their own native food kitchen gardens ranging from tiny balconies to large open spaces so they can experience the joy of using these foods straight from their own backyards.
Saturday 10 December, 2pm-3.30pm. Narre Warren Library, Overland Drive, Fountain Gate. Bookings essential at tinyurl.com/cclcevents or phone 8782 3300.