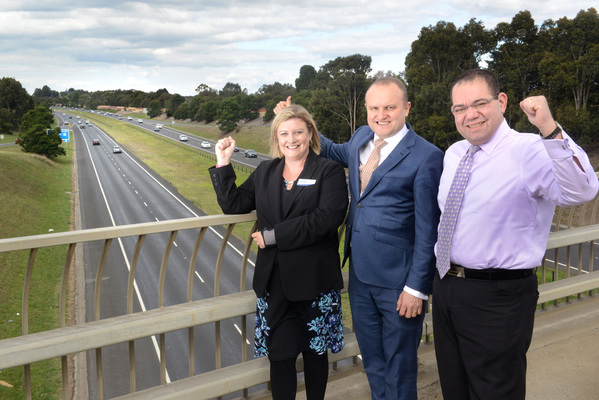 Monash Freeway's notorious gridlock is set to be eased with 36 kilometres of new lanes to be added – made possible by a $500 million grant from the Turnbull Government.
Major construction on the Monash Freeway Upgrade Stage 2 project is scheduled to start in mid-2019 and is expected to be completed in early 2022.
Federal Member for La Trobe Jason Wood said he has long campaigned to make the upgrade a reality.
He said the project included the upgrade of the Beaconsfield Interchange and the extension of O'Shea Road in Berwick.
"The freeway will be widened between Warrigal Road and Eastlink and between Clyde Road and Cardinia Road, cutting an estimated nine minutes off a peak-hour trip between Pakenham and the city," Mr Wood said.
"This is going to deliver smoother and safer commutes for my community, ensuring people get from work to home sooner so they can spend less time in traffic and more time with the family."
Federal Minister for Urban Infrastructure and Cities Paul Fletcher said the added lanes "will slash congestion and improve travel times for drivers across Melbourne's south east while also ensuring safer journeys."
"Motorists make more than 470,000 trips on this corridor each day and that's why the Turnbull Government is investing $500 million in this vital project – to help ensure those trips become quicker and easier for Melburnians," Mr Fletcher said.
"There are also important economic benefits – this upgrade will improve access to the growing Monash and Dandenong National Employment and Innovation Clusters, major employment centres incorporating Monash University, Monash Medical Centre and Dandenong Hospital.
Minister for Roads Luke Donnellan said the State Government was pleased to see the Commonwealth getting behind the urgently needed project.
"Stage 2 of the Monash Freeway Upgrade will give drivers in the south east faster, safer and more reliable journeys – we're glad to see the Commonwealth getting behind this urgently needed project," he said.
"It is a fantastic outcome for Victoria that we have been able to take Commonwealth money that would have been wasted on the Liberals dud-East West Link and redirect it to important projects like the Monash Freeway Upgrade."
The national advisory body on major infrastructure projects, Infrastructure Australia added Stage 2 of the Monash Freeway Upgrade to the Infrastructure Priority List.