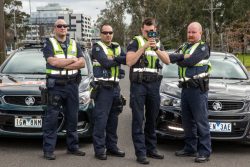 By Cam Lucadou-Wells
More than 1100 penalty notices were handed out in a 10-day traffic blitz by police in Casey, Cardinia and Greater Dandenong in August.
Operation Prominent was held between 10-19 August in response to a high number of lives lost on roads in Melbourne's South-East this year.
During the highly visible blitz, police breath-tested 4388 drivers and handed out 1103 infringements for speed, alcohol-drug levels, distraction, seatbelts and fatigue.
Up until the operation, 18 people had died on South-East roads including a mother and daughter in a two-car crash on South Gippsland Highway, Cranbourne East, on 10 August.
Inspector Tom Nairn, of Victoria Police's southern metro region division 3, said that 11 of the fatalities involved poor decision making and driver behaviour.
"We make no excuses for challenging this behaviour, pulling people over who are speeding, intercepting people who are under the influence of drugs or alcohol and prosecuting them to the full extent of the law," Insp Nairn said.
Drivers were making choices that lead to fatal consequences, he said.
"People in this area are making a choice to drive while under the influence of drugs or alcohol; they're making a choice to speed or drive when they're not authorised to do so.
"Tragically, these choices can result in people losing their lives and leaving families and friends without their loved ones."
Among the offenders detected during the operation was a male P-plate driver allegedly travelling at 179km/h in a 100km/h zone on Ballarto Road, Cardinia, at 4.58pm on 14 August.
He was expected to be charged on summons, and his car impounded for 30 days, costing him $972.
A female driver was also fined $595 and lost six demerit points when caught speeding at 110km/h in a 70km/h zone on Beaconsfield-Emerald Road, Dewhurst, about 5pm on 12 August.