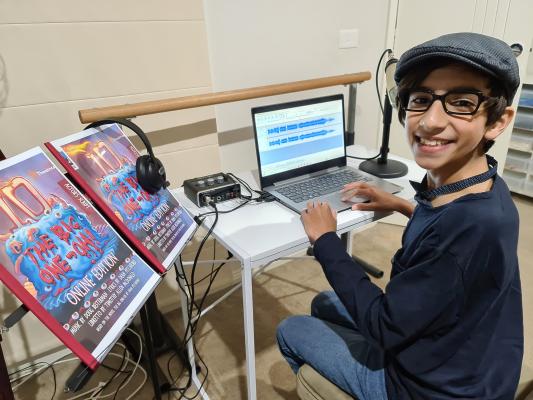 By Danielle Kutchel
Not all theatre has stopped during Covid.
With in-person productions off-limits due to restrictions, Masquerade Youth Productions (MYP) in Berwick has found another outlet for their keen young stars, with a virtual production set to premiere over the weekend.
'The Big One Oh – Online Edition' will be showing on screens on Saturday 4 July at 5pm.
The musical, about a young boy and his 'monster' birthday party, features 16 performers tackling the new format.
The talented young cast and crew, including 11-year-old Dandenong resident Kershawn, has worked hard behind the scenes to pull it off.
Kershawn is no stranger to the professional stage and screen, but his acting career has been halted like many other artists due to Covid-19.
He began dancing at the age of two before becoming interested in singing and musical theatre, and now, it's become his life.
A recently signed contract with an ABC/BBC television series has been postponed due to Covid, but Kershawn jumped at the chance to perform in MYP's online musical, just realised from Broadway, from the writer of Footloose Dean Pitchford.
Kershawn plays 'dorky kid' Darryl Egbert in The Big One Oh – his fourth MYP show – and says the role is a lot of fun, even though performing in an online musical was a challenge to start with.
"Once the director went through it with us it became easier to be our character, but through the screen," he explains.
"It's really different because you cant really interact with the audience.
"You can't really interact with your fellow castmates eitherc, you sort of look at the screen to see what theyre doing and it's weird because you can't get their energy."
Nevertheless, Kershawn is excited about the premiere of the new musical and what the future has in store – and he can't wait to be back on the stage for real.
"It's good to be on stage because you get to act to the audience, you feel them wanting to see what's happening. You can feel your cast members around you getting hyped and you do the same thing."
Tickets and more information for The Big One Oh! Can be found at https://www.myproductions.com.au/how-to-book-tickets