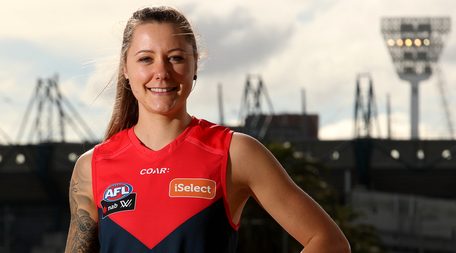 MELBOURNE DEMONS AFLW 2019 SEASON PREVIEW
After last season falling agonisingly short of a grand final berth, the Melbourne Demons AFLW squad will be looking to bounce back from that heartbreak in season 2019.
Needing a win in the final home and away game of the season to book their place in the big dance, Melbourne fell by two points to the Western Bulldogs in an absolute thriller.
Since then, the Demons' list has undergone some massive changes. Superstar Daisy Pearce is out for the season, expecting twins, while Mel Hickey and Richelle Cranston have both moved onto Geelong.
Whilst the loss of those stars will be felt across the ground, Melbourne still boast an even and deep squad. The likes of Elise O'Dea, Karen Paxman, Lily Mithen, speedster Aliesha Newman and a pair of local stars; Bianca Jakobsson and Tyla Hanks will all play vital roles for the Demons.
Cora Lynn-product Hanks, who starred for the Gippsland Power in the TAC Girls competition, was selected by Melbourne with their first pick (#6) in the 2018 AFLW Draft and you can expect the tough midfielder to slot right into the Demons squad.
Melbourne kicks off their season this weekend against Fremantle on Sunday afternoon at Casey Fields in what promises to be a great match.
Whilst the Dockers finished second last in season 2018, due to the incredibly close nature of the league, they were just one win behind the Demons in third place.
Undoubtedly, the big question mark for the Demons this season is how they cover the loss of three star players. The class that has left the club is hard to replace and they will need every player to stand up and take their respective individual games to the next level.
The likes of young up-and-coming players Eden Zanker, Katherine Smith and Madeline Brancatisano (#15 in the 2018 AFLW Draft) will be keys to success, as will Tegan Cunningham, Meg Downie and Shelley Scott.
On Wednesday morning, the Andrews Labor Government – on the eve of the season kicking off – announced a $50 million investment in women's sport, with the government to invest $5 million to improve the playing conditions at Casey Fields for AFLW competition.
The Demons play three games at Casey Fields this season. Round 1 against Fremantle (February 3), Round 4 against North Melbourne (February 24) and Round 7 against Adelaide (March 16).